Simplifying Senior Care For Families and Providers
---
Adult Family Home Solutions was founded by adult family homeowners who wanted to simplify the senior care process and get those searching for senior care connected with providers directly.
Many times, families are looking for qualified care providers who can provide in-home care for their elderly loved ones. It can be an immediate need due to an unforeseen emergency or it can be for long term planning as your elderly loved one may need help in the future but not right now.
To simplify the process, our team of homeowners and developers worked together to build adultfamilyhomes.org, a senior care search tool that allows families to search for care in an area and filter down results based on specific care needs like Dementia/Alzheimer's, Diabetes, Hospice care, or 24-hour care.
Each adult family home listed with us is operated by qualified care providers who are registered with the state in which their care home is operated. To date, we have 800+ adult family homeowners listed with us who provide senior care across 85+ different cities in Washington.
Our mission is to help seniors and their families get connected directly with qualified care providers in their area by providing a useful senior care search tool that you can access 24/7. Our search tool helps families cut down the time it takes to find specialized, in-home elderly care for their loved one.
Get connected directly with senior care providers in your area today by using our search tool and pick the right home for your loved one.
How to Find an Adult Family Home
---
Our website contains a large database of senior care homes, their care services, contact information, and living arrangements. These listings are owned and operated by the care providers themselves, who update their adult family home services on our site.
By using our search feature, you can directly contact the provider who offers the care options you need in the area you are interested in and inquire about availability and price directly.
Just type in a city or zip code and filter from Room Type, Medical Services, and Activities. You can favorite the homes you want to see for later or get in touch with the providers directly.
Direct Message: Start a chat with the homeowner and message them about your loved one's needs while staying in their home.
Callback Request: Rather talk on the phone? Request an adult family homeowner to give you a callback.
Tour Request: Ready to see the home? Request a tour with the homeowner and communicate with them directly when logged in to your account.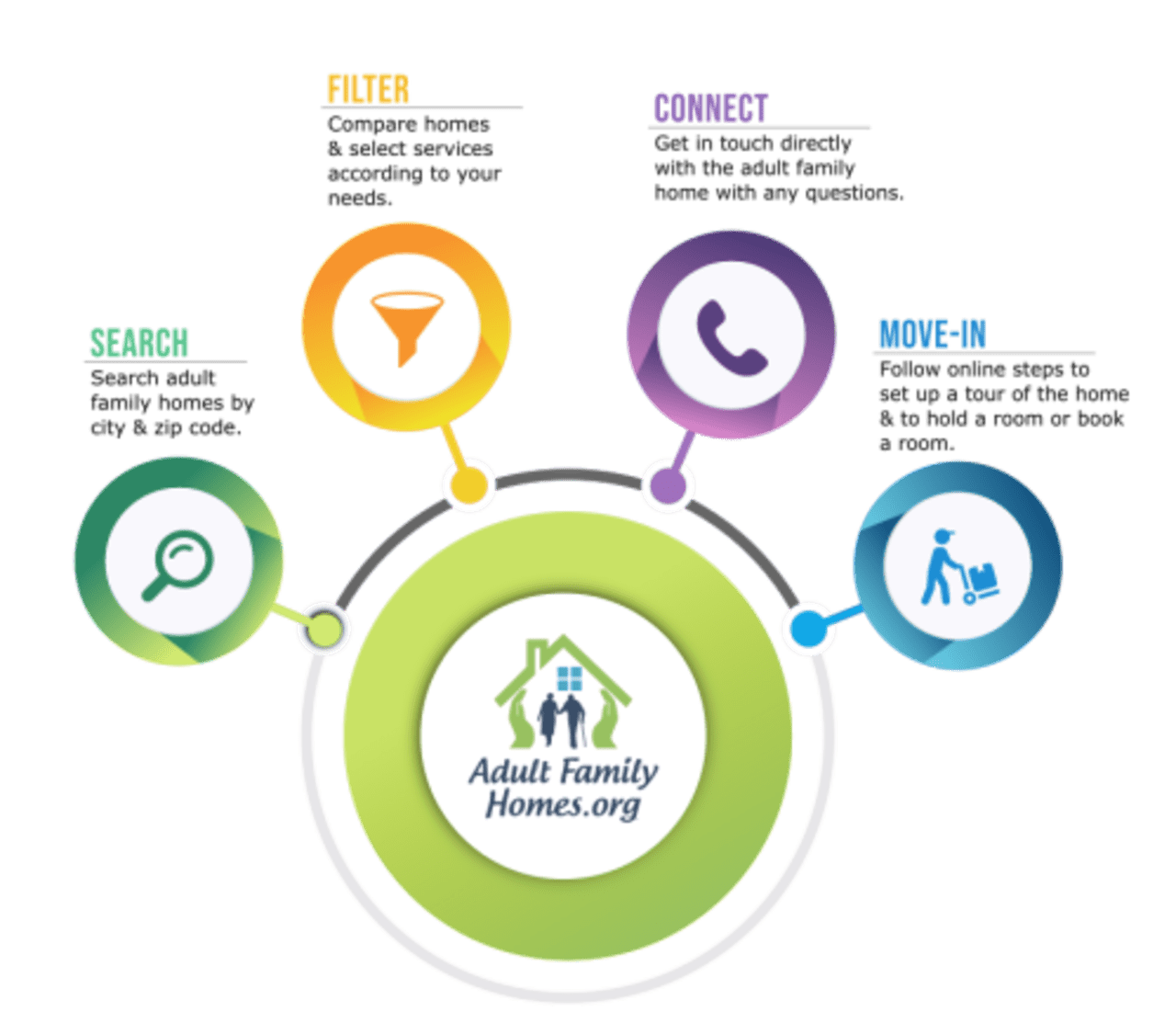 Adultfamilyhomes.org takes away the highly stressful process of finding living options and care options in your area, as well as who to contact, by creating an "all in one" platform that gives you the information you need at the click of a button
Our search tool allows you to find specific care and lifestyle requirements based on an area of interest and shortens the time it takes to get in touch with a provider, minimizing the stress of finding a place you can call home for your loved one.
Questions To Ask Your Senior Care Provider
---
Each Adult Family Home provides unique senior care services and amenities for their residents. It's important you consider and understand your current and potential future needs as you evaluate each home. Once you have assembled a list of possible Adult Family Homes, it is a good idea to get in touch with the owners and set up visits with each one at various times of the day.
Seeing how homes differ throughout various times of the day, like lunch for example, will give you a good gauge on how the home is run. When touring these homes, it is also very important that you consider not only the physical care needs of your loved one, but also the spiritual, social, and cultural needs as well.
You will want to get as many answers to all your questions in order to ensure your ideal Adult Family Home. Some questions you might want to ask include:
Are they licensed and how long have they been operating? (no brainer, so don't forget to do it! )
How many staff are generally on shift, both during the day and night?
How are family visits handled and when are visiting hours?
What kinds of activities are planned and structured during the day?
Do they provide medication management? How is medication management handled?
Is some level of nursing care provided, and how often is it available?
Are transportation services provided?
Are bedrooms private or shared?
What amenities are within close walking distance - library, shopping, movie theater, etc?
Is there an area to enjoy outdoor activities such as walking, sitting or gardening?
Interested in talking to a dedicated member of our team to learn more?
Call us today at +1-800-581-4246
These are just a sampling of things you may want to ask. Be sure to have your list of questions written down and ensure that you ask the same questions at all the Adult Family Homes you are considering.
Once you move into the Adult Family Home, understand that there will be a period of adjustment. The first few weeks can be difficult until your loved one gets established and becomes familiar with the routines and their surroundings. Discuss any concerns you have with the administrator of the Adult Family Home. Communication is key and sometimes what you want or need expressed for your loved one's care is never more than a question away.